The Virtual Jerry Garcia Archive Museum Opening
Although many of my friends and family see my facebook posts and know I run a virtual metaverse, most do not actually know what that actually is Even though opensim has been around for 15 years or so, many have not gotten there yet.
We intend to change that, bit by bit.
A few years ago Manasha and Keelin Garcia started thinking about how to best archive the legacy of Jerry Garcia, their late husband and father respectively. They envisioned a virtual meeting place for people to meet, view his works, and perhaps even chat about him together. Their vision was to make this a place everyone could visit at their leisure. It was to be beautiful encompassing many of the garden aspects Jerry loved. Fast forward to 2022 when we began talking together about making this happen the metaverse. We formed a team, and I enlisted the help of my many brilliant creators on Neverworld. Our task was cast, and the museum and the Art Garden was created.
And finally on 6/7/23 we had the inaugural opening of the the JGAM, attended by the Hypergrid safari tour group and Thirza Ember.
Below: A gathering of tour goers at the start of the event, with Peter Agelasto from Starchive.io giving a speech about Jerry, his art works, and the museum project.
Right: Peter Agelasto of Starchive, in a field of daises next to the museum.
After the speech, we watched the official ribbon cutting ceremony (a appropriate tie die ribbon of course) and the museum was finally opened. Thriza covered the actual contents of the museum and the attendees in her excellent blog of the event. Below was a very beautiful and interesting safari tourer... I love the quirky and individual avatars they have. In virtual worlds, you can be anyone.
Left: Seth Rogin of Magnolia Media joined us for the speech and tour. Here he is in the art garden.
After perusing the amazing body of art works in the museum, visitors strolled the pathways of the Art Garden to discover more of Jerry's landscape art tucked away amongst the flora. As people exited the museum, many were thanking Jerry out loud for his art and his music.
Below: "Trees" by Jerry Garcia with gif animation by Keelin Garcia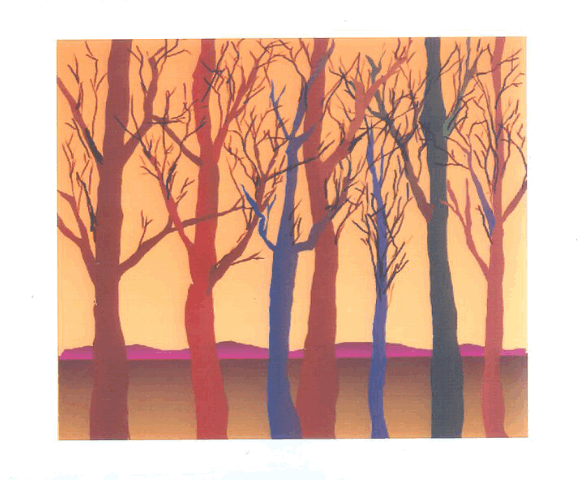 Below: in the art garden Govega is "standing in a shaft of light" She is wearing a gown made by Nexus Storm with the artwork of Keelin Garcia.
And then we were invited to Moonglow the adjoining concert sim. The stage was created by Nexus Storm and much of the scripting done by Ares Halostar. In creating this region, we did our best to evoke the feeling of an open air concert venue ... filled with balloons, sparkly things, dancing people and in the background, a carnival filled with rides, free tie dye wearables and accessories, and a little pool of sea turtles.
Below: Keelin hangs out in this incredible garden of giant mushrooms and glowing succulents.
There was much to do in Moonglow, for those who didn't get a chance to see, you can take your picture in front of the L O V E sign.. and give a big blast of PEACE to all who see. That's me, Govega :)
Our line dancers had a great time in front of the particle rainbow ! Behind the rainbow the train was putting along. I did hear some took rides around the sim on the train.
A highlight of the event was a balloon drop with wearable gifties made by Keelin Garcia and Nexus Storm. Stay tuned for more livestream events!
Left: Sebastien is looking relaxed as he hangs in a sea of balloons amongst
swirling shafts of light.
Some links:
JairRohm Parker Wells, Sound Poet